Maw Maw Freeland's Potato Salad
---
My husband's grandmother's beloved potato salad recipe!
The first Christmas I ever spent with my husband Ryan's family, I was introduced to the strangest looking potato salad I'd ever seen. It didn't look like the potato salad I'd been used to, but everyone at the gathering kept talking about how it's their favorite dish on the table. Y'all, it had OLIVES! That was so weird to me for potato salad. I had to give it a try, it was almost like a rite of passage for being a new member of the family. So, I tried it and it was LIFE.CHANGING! Thankfully, Ryan's cousin Nicole got me the recipe (she wrote it from memory because Maw Maw never had it written down either), and I haven't made another potato salad since! 
Maw Maw's Potato Salad
1 5lb bag russet potatoes chopped in 1/2 inch cubes
1 dozen boiled eggs, save two to cut in half for the top, chop the rest
1 jar of Blue Plate Mayo (Yes, the ENTIRE jar!) 
1 jar of Zatarain's Stuffed Olives (drained), save 10-14 whole, chop the rest
1 chopped white onion
Salt, Pepper, Cajun Seasoning, Onion Powder, Garlic Powder to taste
**NO MUSTARD** In case you were wondering if I had left it out! Nope, this recipe does NOT need it.
Place potatoes in a pot and cover until 2 inches of water on top. Bring to a boil. This is important so that the warming pot cooks the potatoes at different times. It gives you varying potato texture! 
Boil the eggs 
While these are boiling, chop the onions and olives. Save some olives whole for the topping. About 12-14. 
When you can pierce the potatoes with a fork, remove from heat. Let cool for 20 minutes. This is important. If you mix your potato salad when your potatoes are steaming hot, you're going to end up with fluffy potato salad. This one is meant to be chunky. I think to go with those olives. Maw Maw Freeland was so smart!
Remove eggs from heat after boiling. Cool with ice water. Peel. Reserve two eggs and cut in half to put on top. Peel and chop the rest. 
In a large mixing bowl, add cooled potatoes. Add the jar of mayo on top. Put your seasonings on top of the mayo. This is another trick because it helps that seasoning get spread out easier throughout. Add eggs, chopped olives and onions and then get to stirring. 
Once it is all mixed, top with halved eggs and whole olives. Sprinkle paprika on top to finish.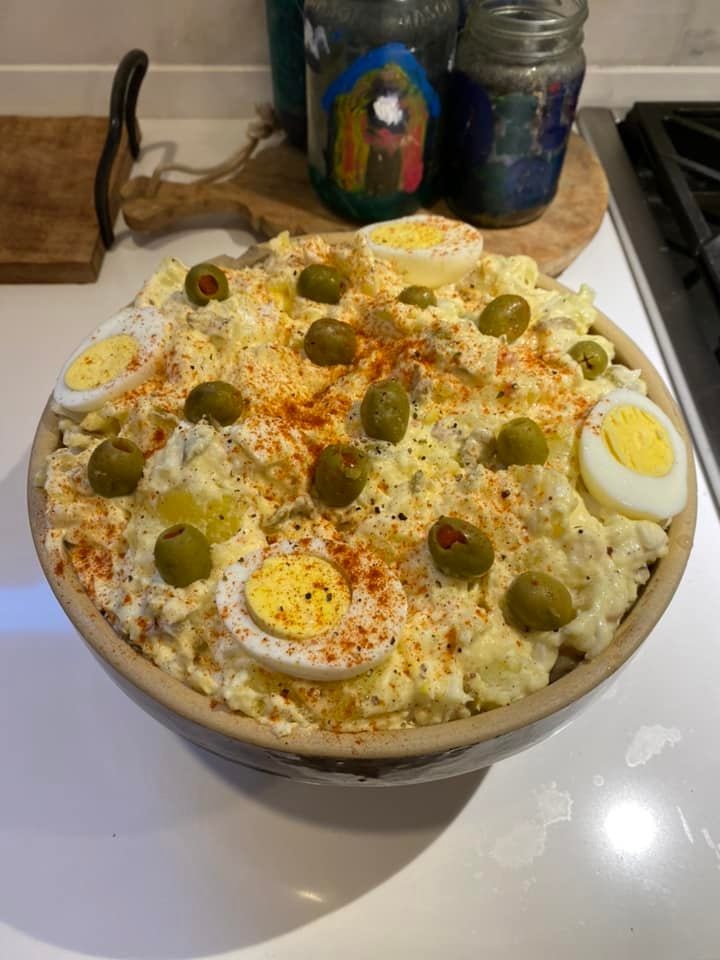 After Ryan's Maw Maw passed, he loved her potato salad so much that he asked for her potato salad bowl. I only serve it in that bowl and it holds all of it perfectly!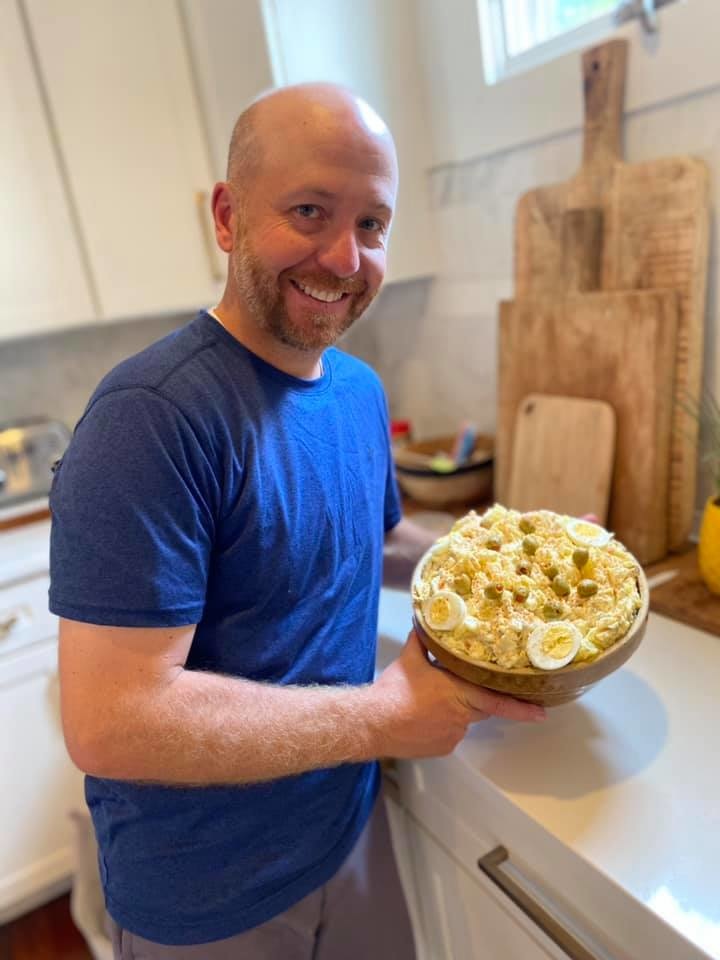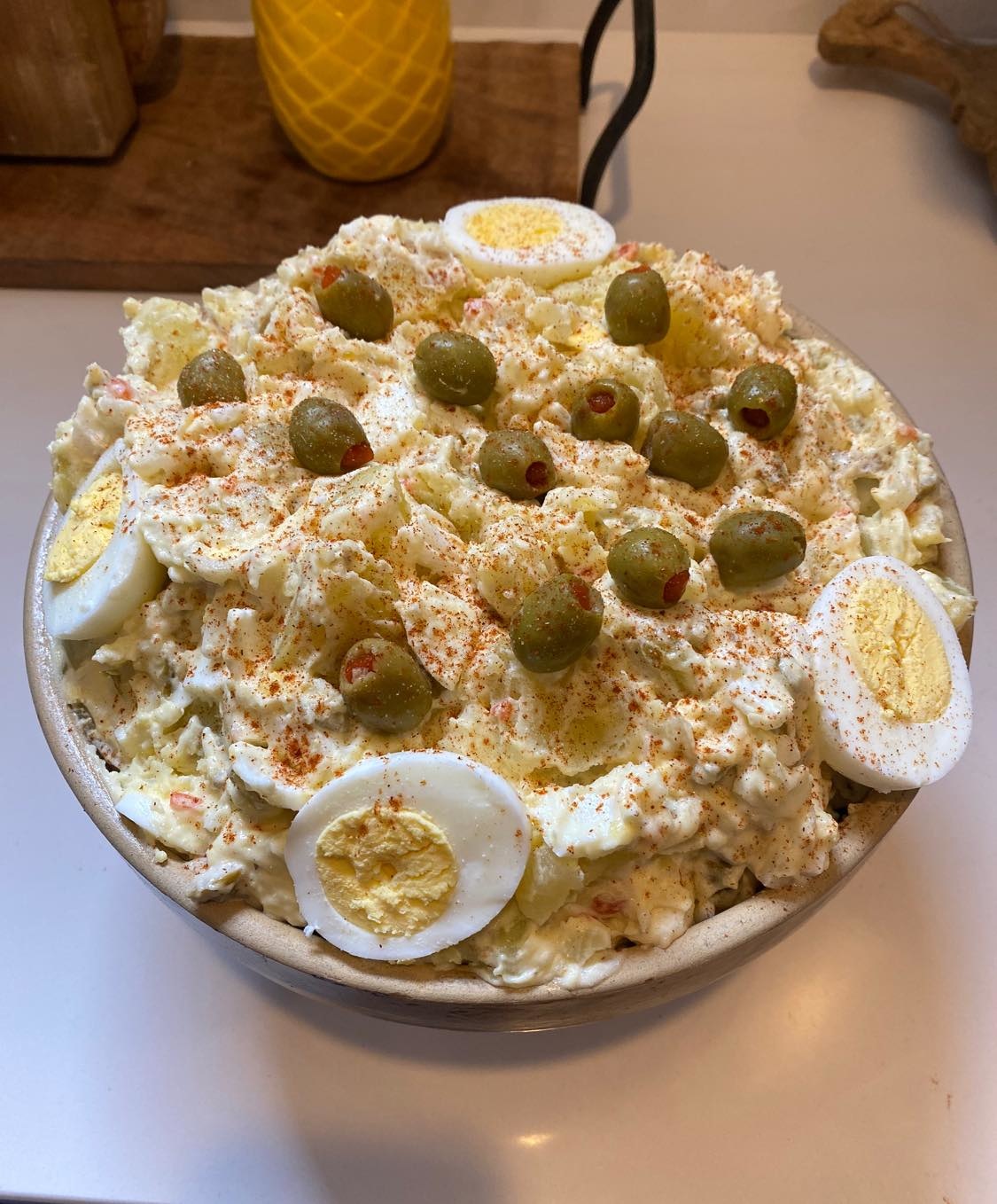 Special thanks to Ryan's Cousin, Nicole Verde, who got me the recipe so I could make it outside of Christmas and as an occasional treat for my husband who just loves getting it more than just once a year. Enjoy and don't be afraid of those olives!