5 Absolutely Beautiful Personalized Gift Ideas from New Orleans
---
NOLA. New Orleans. The Crescent City. The Big Easy. Our city means so much to so many people—whether ya'll visited for a long weekend or were born right here in Louisiana. Carry your heart (and by heart, we mean NOLA) wherever you go, with these beautiful personalized gift ideas from New Orleans. From handcrafted artisan pieces that speak to the very history of our city to the perfect baby shower gift, we know you'll find something you'll love.
Like most things in New Orleans, even our street signs have a personality and a rich history. (What can we say? NOLA is always extra.)
Those iconic blue and white street names you see gracing sidewalks in the French Quarter date back to the 1880s. This was a time when one-horsepower was about as fast as you got. Then, street names were better suited for the sidewalks, where passerbys on horse or foot could read the street names at a closer distance.
Today, they make up the fabric of our city: from street names to house numbers.
New Orleans ceramic street tiles now grace Instagram feeds from users across the world. We think it's because those tiles point back to something special about our city itself: its historical elegance, warmth, and unique community. When ya'll post those photos, you're sharing a piece of our history and that NOLA love with the world. And, that's pretty amazing.
After the destruction of Hurricane Katrina, there was a resurgence in the art form. Local artisans like Danny Chinn at Preservation Tiles began creating these tiles using time-honored techniques. Today, many New Orleans shops carry customizable options that you can bring home with you after visiting our Crescent City.
Like those Insta photos, it's a way to keep a bit of that NOLA spunk and sass and spirit with you always.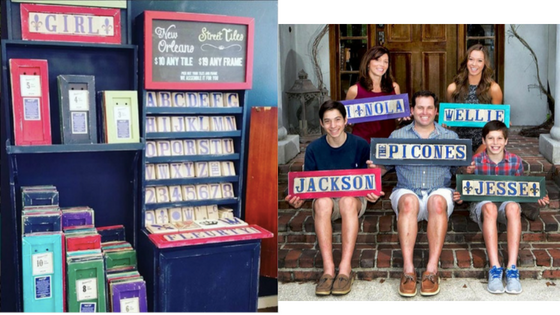 How it works
At Fleurty Girl, we work directly with Preservation Tiles to create one-of-a-kind NOLA gifts for you and your loved ones. These custom tiles are one of the best personalized gift ideas from New Orleans, whether you're looking for a Mother's Day gift, a housewarming present, or iconic art for your own home.
All of our custom tiles are hand-printed right here in New Orleans. They're made from the highest-quality European marble from Southern Spain. Most tiles are three inches by four inches large. Because they're handmade by a local artisan, no two tiles are alike. Each has its own beautiful imperfections and differences that make them unique. Customize with a loved one's name, a special date, or incorporate a classic NOLA symbol like the fleur de lis.
We collect these into a custom frame for you to showcase your creation. Choose from frames that fit three tiles up to 12 tiles total. Frame height is seven inches. Looking for a specific color? We carry red, blue, and avocado green frames.
How to order custom New Orleans street tiles
When you're in town, visit any one of our Fleurty Girl stores to order these custom gifts in person. We create them right there for you, so you can take them home with you the same day.
You can also make an order quickly and easily by phone. Call us at (985) 778-0341 to create a gift that is amazingly and uniquely NOLA.
Wanna order online? Make sure to purchase a frame that matches how many letters you want to include. Then pick out the letters you want here. Add both to your cart in order to get the custom gift you want. We also have pre-assembled phrases ready for instant-order.
2. NOLA Street Tile Necklace
We love our iconic tiles so much that we also put them in a necklace.
These make beautiful personalized gift ideas from New Orleans for birthdays, holidays, and more. It's a way to bring your love of NOLA wherever you go. Plus—what can we say?—these necklaces look amazing when dusted with powdered sugar from beignets or looped around with some Mardi Gras beads.
Choose from a variety of letters to create your own custom gift. Find these in our stores if you are lucky as they are limited in supply currently.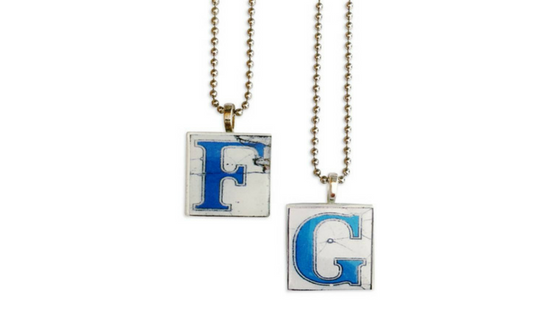 The littlest bits may not be ready for a necklace, but we're pretty jealous that they get to enjoy the best parts of NOLA for the very first time.
Capture your baby's first snoball, first beignet, or first parade with our customizable "NOLA Baby Firsts" poster. Fill in the date and line where they first rode our streetcars or the first time they cheered for the Saints (filling out "Final Score" is totally optional if, by some freak chance, the Saints actually lose a game).
So cute. So classic. These posters are a perfect gift idea for expectant parents, baby showers, or baby's first birthday. Find 'em at Fleurty Girl or online.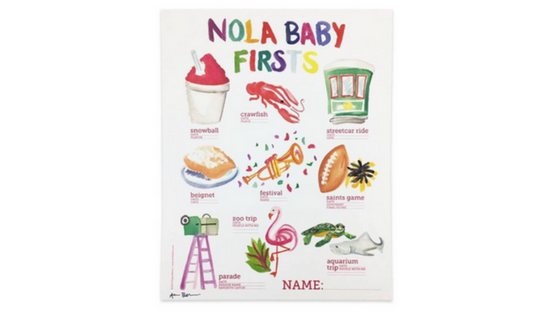 We're a bit biased (okay, a lot biased) but we know all ya'll aren't from NOLA.
No matter where your heart started in Louisiana, mark the spot with our beautiful Louisiana box sign. These make a great home warming or anniversary gift.
With an adhesive mini heart, you can place it on your hometown of Shreveport or Lafayette or keep it right on NOLA. Fall in love near Lake Charles? The heart marks the spot.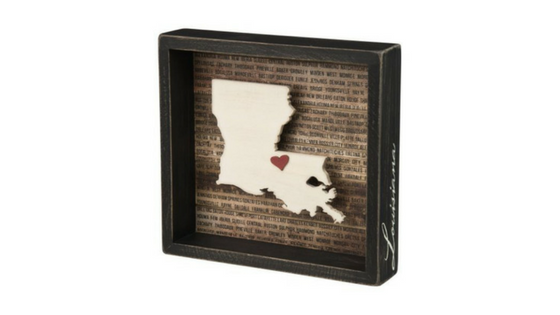 If you learn nothing else from the NOLA community, it's that we should all carry a little sparkle and a little bling wherever we go. Life is meant for enjoyin' and beauty and love. Bring your sparkle with you always with our personalized glitter key rings.
These are a simple gift that can share a city's worth of love.
Choose a loved one's initials or the first letter of a secret nickname to give that bling. Or, choose multiple to carry your loves with you always. It's the perfect way to brighten your day or someone else's!
Find 'em online or in our Fleurty Girl stores.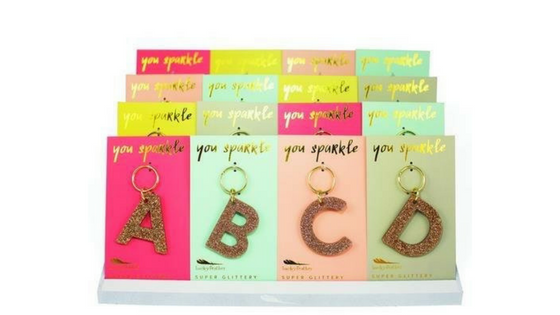 Looking for more New Orleans gifts?
If your heart's in NOLA, swing by our website or any of the Fleurty Girl stores to find hundreds of New Orleans inspired gifts. We've got everything from "Beign-Yay" shirts to kid's first crawfish boil set (remember, we told y'all that we're always extra in NOLA).